Well, the global pandemic precluded the usual trip down south for rocketry in the spring, but as the year went on and classes at the university started figuring out their plans for getting things done safely. Finally here in the fall a smaller group made a quick day trip to eastern Washington.
I finally decided after all these years helping out, that I would finally get my NAR L1 certification, so I picked up a kit and assembled it for a basic cert flight.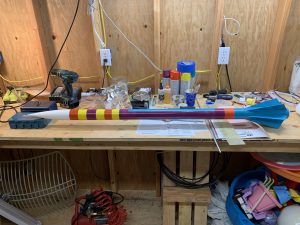 I also took it as an opportunity to put together a new custom flight board, this revision mostly for testing and gathering data, not actually controlling any chutes.
The first flight for my L1 cert was successful, and was recovered.
At that point, I had the telemetry data from the flight board from the first flight, and had achieved a good cert flight, so I put a bit peppier motor in for a second flight.
Unfortunately, a larger chute and a breeze carried it far enough that I was unable to recover it. I left a note with the local club, and maybe one of the local farmers will find it and turn it in. Otherwise it served the purpose, and I don't feel too bad about losing it.