In doing some recent repair and testing work on a few GPSDOs (GPS Disciplined Oscillators), I was looking to have multiple devices running at the same time without switching antennas.
There are of course generic splitters, which can be a reasonable choice in some cases, but the high frequency (1.575.42 MHz), and most GPS receivers using powered active antennas makes some traditional splitters problematic. Of course, commercial options are available targeted at GPS usage, but cost can be prohibitive, or may not have the specific combination of features you may need in your environment.
I decided to quickly throw together a design for a distribution amplifier which DC isolates all the outputs, has onboard 5V or 3.3V regulation for the powered active antenna, SAW filtering, and an amplifier to offset the losses from the four way split.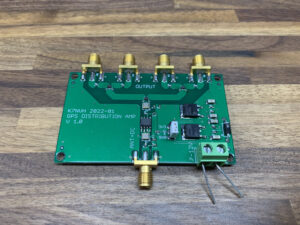 It's a fairly simple design, with few parts, and is inexpensive to put together. I plan to 3D print a case for it and wrap the case in foil tape for some RF shielding, but it seems to be working well as is.
Now with a simplified antenna system I can feed up to four GPSDO devices for repair/testing/comparison measurements.