A little while ago, I posted about using surface mount stencils for the first time on a new project. I've been able to get a couple of the units completed, and with some help from a friend with milling the front panel of the case, the units are looking really nice.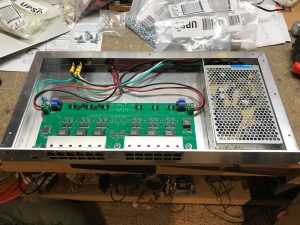 This is a PDU based on my earlier design, but modified to better support PoE (Power over Ethernet) devices. The ports are designed as a passthrough, so one port will connect to your switch, the other will connect to the device and receive power. It's designed to support gigabit connectivity, and handle PoE+ loads.
This new revision makes the project much more valuable for the HamWAN project on our remote sites, where all of our equipment is PoE.