You've all known for a while that I'm a HAM radio operator. Recently I was reading around online about things that people have modified on my model of radio to improve performance, expand range, etc. One of the things I came across was a mod for the yaesu mh-48 mic rather than the radio itself, but it seemed just so handy I had to do it to mine.
The display on my model of radio is backlit, but unfortunately the buttons around the display aren't, so if it's dark, you can't read what any of them say. Kind of a problem… Anyway, A guy on the internetz named Dwight (N7KBC)(Thanks for the great instructions!) decided to add a few superbright LEDs to the back side of the mic, and wire them into the key lock switch which he (and most other people) didn't use.
The instructions are within a restricted Yahoo group for people who own the Yaesu FT-8900, so I won't post them, but if you have one, join the group, and it's called "Better than Backlit keys ver 2."
However, I will post the pictures of my mic's insides and compare them to clippings of the photos N7KBC provided in the instructions. They're mostly the same, but I did a few things slightly differently.
Here's the insides of my microphone, the back is on the left and the front is on the right. You can see the added resistor next to the larger set of red and black wires that run to the back half to the LEDs.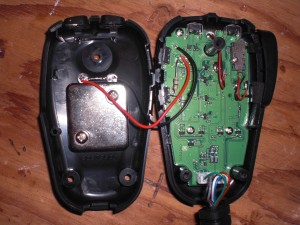 Here's N7KBC's mic. You can see here that he used much smaller wires than I did. That's mainly just a matter of what each of us had around. He also used wires to connect the resistor to the two points. We both used the same points, but I just used the leads from the resistor instead of wires.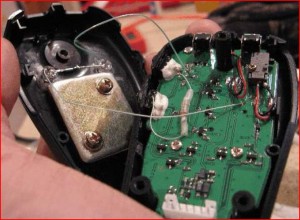 Here's the front of my mic, pretty stock…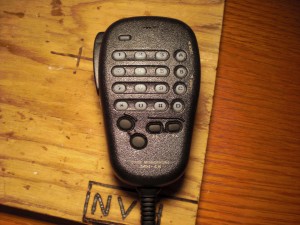 Here's the back of my mic with the LEDs in.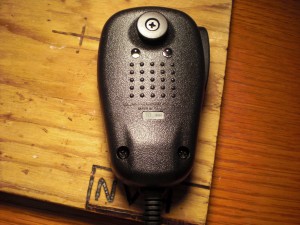 And finally here's the mic showing the lights on. Sorry this isn't very impressive, it's actually quite bright, but you know cameras and taking pictures in dark situations…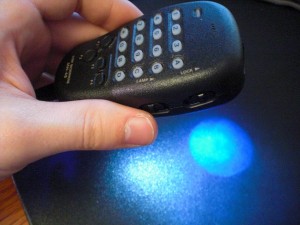 Thanks again Dwight N7KBC for the great set of instructions for this very useful mod!